Why Hire Us?
One Solution Does NOT Fit All
We understand that every San Diego business has unique business needs and their IT services need to be customized to fit. Would you pay for a Ferrari when you only need a Chevrolet to get the job done? Would you use a shovel when you really need a full scale tractor? Of course not!! So then why would you use one of those other IT service vendors' canned "solutions"? We listen to what our clients want and need to develop a custom business IT solution.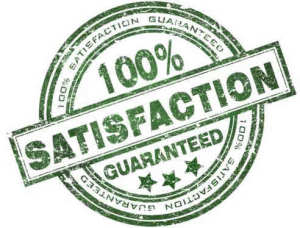 100% No-Hassle Guarantee!
We make sure to get the job done on time and with precision to your liking. If you are not happy we will take all steps necessary to resolve the issue at no additional cost to you. Guaranteed!
On Budget & On Time, ALWAYS
When you hire us for your IT service needs we will never nickel and dime you with additional costs or project change orders. We will set the expectation upfront before we ever even begin the work to make sure you know exactly the costs are going to be so that there are no surprises down the road. Beware as there are some incompetent or maybe just unethical computer support companies out there that will do this either because they didn't plan the project accordingly or they use it as a cheap way to "get in the door" and then extract more money from you.
You Call, We Answer
We give all our clients a guaranteed response time. We want you to have the peace of mind that you can have your questions or IT support issues resolved when you need them and on your time. We love talking to you and encourage anyone on your staff to call anytime!
We Stop Problems Before They Begin
24x7x365 we are constantly monitoring and servicing all of your IT related devices to keep them running efficiently and to their top performance. Our goal is to fix any potential issues before they are even noticeable to you. Often times we are calling you to let you know a possible "issue" has been resolved before you even knew anything was wrong! Pretty nice huh!
No More Unpredictable IT Costs
Are you sick of having surprise IT costs pop-up each month? We put an end to that and can provide you a fixed-fee IT support plan so you can easily budget your IT costs for the entire year. Many San Diego IT services companies charge in prepaid block hours or time/materials for each support call – the more you call them the more they charge you. We do things differently and give you a fixed monthly price – we encourage you to call us as many times as you would like and help you control your spending.
No Tech Talk
There is nothing more frustrating than talking to an IT support company and having them talk in Ghz, Mhz, PetaBytes, Ram, Blah, Blah, Blah…. Most of our client's would rather have instructions in Plain English and so that is exactly what all of us at Windward Technology provide. We promise to always to provide friendly, clear, concise, and in Plain English direction.
We Listen
It's our goal to help your business become more efficient and profitable through the use of technology. In order to do that we are always wanting to hear your wants, needs, and thoughts so that we can build the IT solution specifically to your needs.